Tom Jobim Rio Galeão airport
Last boarding calls

Information provided by third parties and subject to change without notice. Riogig.com is not responsible for any error, modification or omission of data that may have been made.
Today's departures at Rio Galeão GIG
Today's arrivals at Rio Galeão GIG
Faqs
Answers to passengers frequently asked questions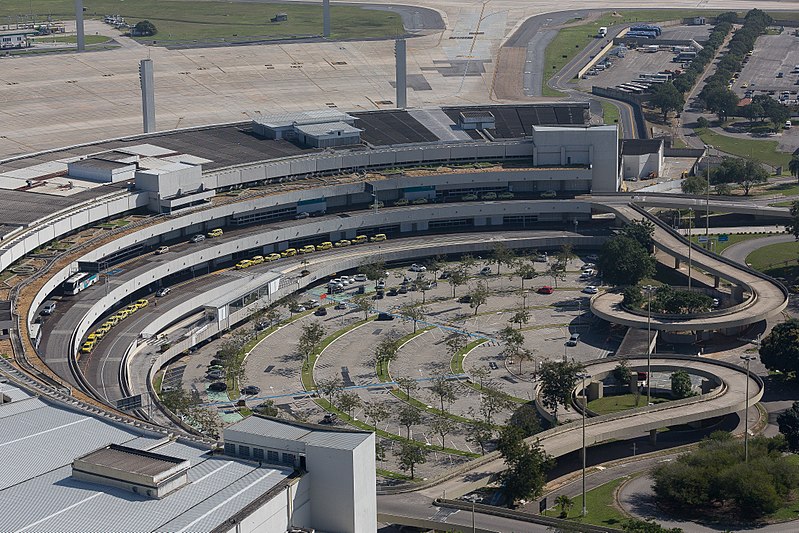 Diego Baravelli, CC BY-SA 4.0, via Wikimedia Commons
Location
Tom Jobim Airport, better known as Galeão (IATA: GIG), serves the Rio de Janeiro area with international and some domestic flights. 5.6 million passengers passed through Rio Galeão during 2022. It is located 20 km from downtown Rio de Janeiro. (See Map ).
Hotels at the airport or nearby
It has two hotels: Rio Aeroporto Hotel and Aero Hotel. The Linx Hotel is located 500 meters away. See more


Airport contact:
Official Web site: – Facebook – Twitter – WhatsApp from 06h to 18h + 55 21 96761 5041 – Tel. +55 21 3004 6050 from 06h to 00h
Services
Galeão international airport has 24-hour cafes, restaurants and fast food, clothing stores, perfumery, regional products, Duty Free, bookstore, newsstand, telephone and banking services, free Wi-Fi access, convenience store, pharmacy, spa, lottery agency, children's playground, workspaces, hotels and VIP lounges.
Public and Private Transportation
Taxis and Ride-share apps:
Taxis have an exclusive dock on the 0 floor of arrivals in Terminal 2. Ride sharing apps have their pick up areas between gates B and C and at the entrances of the administrative building and the Linx Hotel. See more
Bus service:
The rapids (BRT) called "ligerão" go to Barra de Tijuca and also connect to the Metro, the blue buses called "frescão" run to Copacabana, Ipanema, Leblon and downtown, the regular urban buses go to different points within Rio de Janeiro city, and the regional ones (AutoViação) travel to Búzios and other towns in Rio de Janeiro state. See more
The counters are located in Terminal 2, Arrivals area.
Airlines
Airlines operating in Rio Galeão and location of their check-in desks
Vip Lounges
Located in Terminal 2. American Airlines Floor 3. Gol international and domestic departures, Premium Plaza with three lounges (international departures, domestic departures and in the public area, Premium parking floor) and Star Alliance in International departures:
VIEW LOUNGES – BOOK ROOM
Parking
There are 5 parking areas: Garage (covered), Premium Floor, Economic 1 and 2 (uncovered) and Administrative.