Frequently asked questions of passengers at Rio Galeão airport
Answers to the most popular passenger queries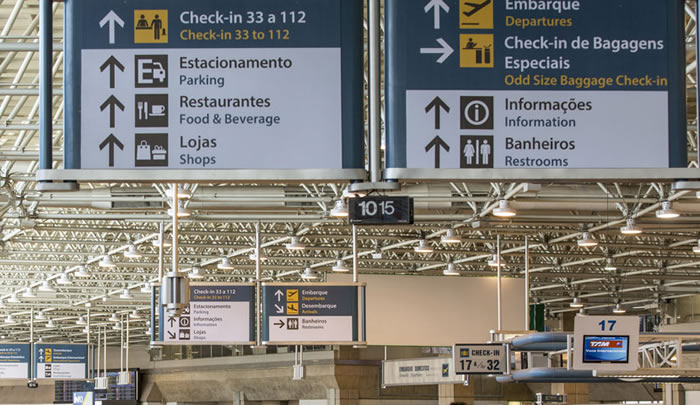 What documentation of COVID-19 must be presented at Tom Jobim airport?
– Submission to the airline of a negative Covid-19 test performed within 24 hours prior to boarding or laboratory PCR test performed within 72 hours prior to boarding.
– Printed or electronic proof of a complete vaccination schedule and that the last dose was administered at least 14 days prior to the date of travel.
All passengers must complete Traveler's Health Declaration (DSV) online . Without presentation of the DSV email, boarding will be denied at the airport of origin. Passengers with international connections in Brazil must also present this Declaration.
How to get to the city center or beaches by public transport?
The premium blue 2016 bus (locals call it "Frescão") connects the airport with Copacabana (Windsor Excelsior Hotel,
Grand Mercure Copacabana), Ipanema (Praca General Osório) and final destination in Leblon (Rua Humberto Campos) at 18.85 RS. The Frescão Premium 2145 goes to the center (Terminal Novo Rio). The rapid transit bus (BRT) (locals call it "Ligerão") line TransCarioca Express connects the airport with Estação Vicente de Carvalho (here you can connect with the Metro to go downtown) and reaching Barra de Tijuca (Terminal Alvorada). Rate 4.05 reais. Learn more
Where to wait for Uber or Cabify?
Passengers can wait for the Uber at Terminal 2 (between gates B and C), UAC (entrance of the Administrative Building) or Linx Hotel reception. Cabify on the lower floor, where the administrative parking is located. Rates: downtown (33 to 44 RS), Copacabana and Leblon (43 to 58 RS), Ipanema (45 to 60 RS), Barra de Tijuca (65 to 84 reais).
Is it possible to get a SIM card at the airport?
There is a store called Exactta Telecomunicações in Terminal 2 – Floor 0, international arrivals area. Open – 07:00 to 23:00. There you can buy a "chip" (SIM card) for internet access. Also in Skill SIM, located in Terminal 2 – Floor 1 International Boarding
How to get from Galeão to Santos Dumont airport?
The Frescão 2145 bus connects the Rio de Janeiro Galeão and Santos Dumont airports every half hour on weekdays and 40 minutes on weekends and holidays. Rate: R$ 18.85. It is only recommended to use it if you have enough time as there is no estimated travel time. An Uber costs approximately 35 reais and a taxi R$ 70. Travel time: 25 to 30 minutes.
How to get from Galeão airport to Buzios?
The company Auto Viação 1001 has buses leaving from Tom Jobim airport to Buzios from 8:30 a.m. to 6:40 p.m. Rate R$ 70.07. Estimated travel time: 3h 30 minutes.
Is it open 24 hours?
The airport is open 24 hours and has several cafes and services available throughout the night such as currency exchange, Duty Free shops, car rental, pharmacy and VIP lounges.
Is it possible to get the Emergency or Urgent passport in Galeão?
Any passenger with Brazilian citizenship can pick up the passport (either Emergency or Urgent one) at the Federal Police office at Galeão airport. To start the process you must visit the Federal Police, and search the passport option.
What to do in case of loss of valuables or luggage?
In case of losing documentation or belongings within the terminals, you should contact the Lost and Found desk (Achados e Perdidos) Monday to Friday: 12pm to 10pm, Saturday, Sunday and holidays: 12pm to 5pm +55 21 3004 6050. If your luggage or personal effects were lost or damaged during the trip, you should contact your airline .
Is there a luggage storage service?
The Malex company provides left luggage services, in the international arrivals hall (next to Safra bank) tel. +55 21-3398-2192.
How much does it cost to park in Galeão?
The cheapest parking is the outdoors Economic Parking Lot 2 (18 reais an hour and R $ 48 the entire stay). The spaces are subject to availability. No reservations are made. More information here
Are there banking services in Galeão?
There are banking services of Banco do Brasil, Banco de Itaú, ATMs and two 24-hour money exchange agencies (GlobalExchange, Safra).
Are there pharmacies?
There is a 24-hour pharmacy (Air Farma) in the 2nd Floor Passenger Terminal.